Welcome to South Africa
News & Events
March 29, 2006 Leave Bangkok for South Africa
Starting at 4:30am, we began our trip to South Africa with a 7 hr. plane ride in an Airbus 330-200 from Bangkok to Doha, Qatar. We had a 9 hr. layover there, and then enjoyed a 12 hr. flight from Doha to Cape Town, South Africa via a 1 hr. stopover at Johannesburg. Do the math—if you include the 2 hrs. in the Bangkok airport that's 30 hrs. of travel with very little sleep. Despite the dreary message I just painted, I have to say that it could have been much, much worse. Given these circumstances, the kids were unbelievably great. The plane had the video screens in the back of every seat that offered movies/TV/games on demand which really saved our butts.
So the 7 hr. flight from Bangkok to Doha was pretty uneventful and actually went quickly and we arrived at Doha for our 9 hr. layover with no problems. We had pre-paid about $100 for access to the Oryx executive lounge in the Doha airport so we could enjoy their myriad of services—drinks, food, comfy furniture, internet access, and gate pickup services. Originally we had a hotel setup for us just to unwind and possibly take a nap during the 9 hr. layover. But we soon learned from security people and the US State Dept that Doha is not a place that, if you're a Westerner, you want to wander around in. Apparently Westerners are targeted as mugging victims like food is by Kirsti Ally. I was surprised to learn that even breathing, as a Westerner, marked you for a quick mugging. Plus if we left the airport we'd have to apply for a visa at $100 per person, so that nap in the hotel was quickly becoming very expensive.
So I purchased some time at the luxury Oryx lounge at the Doha Airport.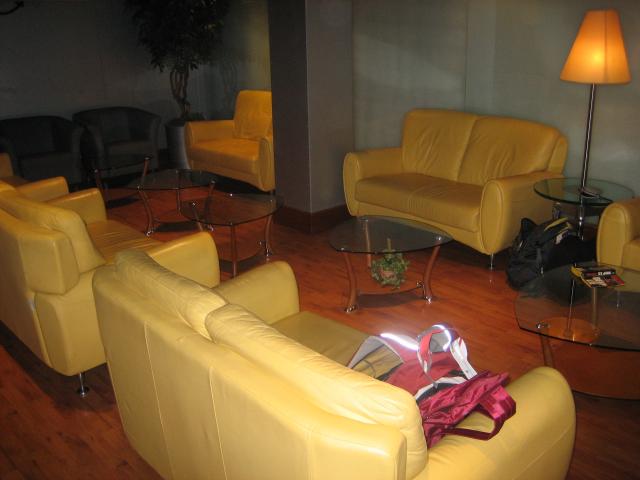 It was nice, albeit small. One of the Oryx lounge people greeted us at the gate and walked us through passport control and customs (read: go to the head of the class!) and we were escorted to the Oryx lounge. About 10 minutes after we arrived there one of the lounge attendants approached me with a question about our layover. I immediately thought that we had been kicked out of the lounge because of our kids (they were great, but you can only be so great when you're 3 and 5 yrs. old after an 7 hr. flight after waking up at 4:30am with no nap…). But she graciously informed us that we were eligible for a complimentary hotel stay because our layover was more than 8 hrs. Cool. So we went to the airport hotel.
Picture a Motel 8 room with two twin beds and a TV that gets only one English channel. No problem here—it was clean and air conditioned and we watched about 45 min of a very bad movie called, "Fight of the Jaguar" starring Stacey Keatch and Linda Blair. Horrible acting, but appropriate for our zombie-like state. We all konked out for about 2.5 hrs. at which time we had to wake the kids and we were all in a post-nap traumatic state with burning/itching eyes for a bit.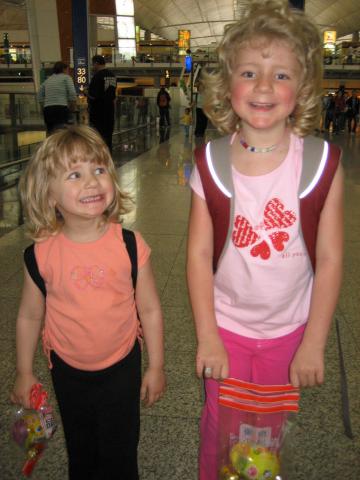 The flight from Doha to Cape Town, South Africa was also uneventful, but very long and exhausting. The night flights are a huge tease. No way can you sleep on those flights except if it's about 10% full and you get one of the 4-seat rows all to yourself and you drink about 8 beers with 3 Benadryls on an empty stomach after being awake for about 4 days. But the girls seemed to get in about 2-3 hrs. of sleep after being hypnotized by the video screens for several hours. I actually got a little addicted to a game called "Caveman" where you had to solve visual puzzles and avoid the mammoths. It actually plays better than it sounds.
Travel totals to date:
| | | Miles | Hours |
| --- | --- | --- | --- |
| Florida --> Hong Kong | | 9445 | 21 |
| Hong Kong --> Bangkok | | 1099 | 2.75 |
| Bangkok --> - Chiang Mai | | 354 | 1.25 |
| Chiang Mai --> Bangkok | | 354 | 1.25 |
| Bangkok --> Doha | | 3267 | 7.25 |
| Doha --> Cape Town | | 4608 | 12 |
| | | 19,127 | 45.5 |
Contact Us

Sponsor of World Smart Kids